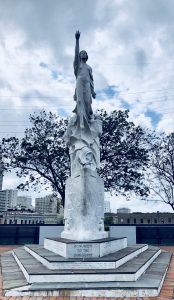 Monument to the immigrant in New Orleans. I was was wondering where we have one in
our capital in
Luxembourg (apart from all the streets and houses the immigrant built for us).
New Orleans is really multicultural, you can feel it, see it, hear it, smell it and taste it. You get the feeling here, that multicultural Luxembourg is a joke, everyone in his corner. Still, in our cultural an intellectual arrogance, we like to give good advice to the rest of the world (for example the States), instead of learning from each other.
Anyway, I'd love to see a monument to the immigrant in a prominent place in Luxembourg-city.